Agustin Egurrola once again had the pleasure of working with Maryla Rodowicz on the recordings of new episodes of the ,,Jaka to melodia" program!
The dancers of the Volt Group and Egurrola Dance Agency took care of the dance setting and presented themselves in choreographies specially prepared by Agustin for the artist's Polish songs, which resulted in great cooperation and a spectacular stage picture. You will see the effects soon on TV!
Thank you and see you in the next stage!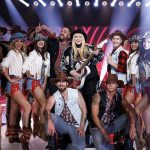 « Previous post
Next post »